Intended for daily use and primed for mixing and matching, we make essential glassware that every home needs.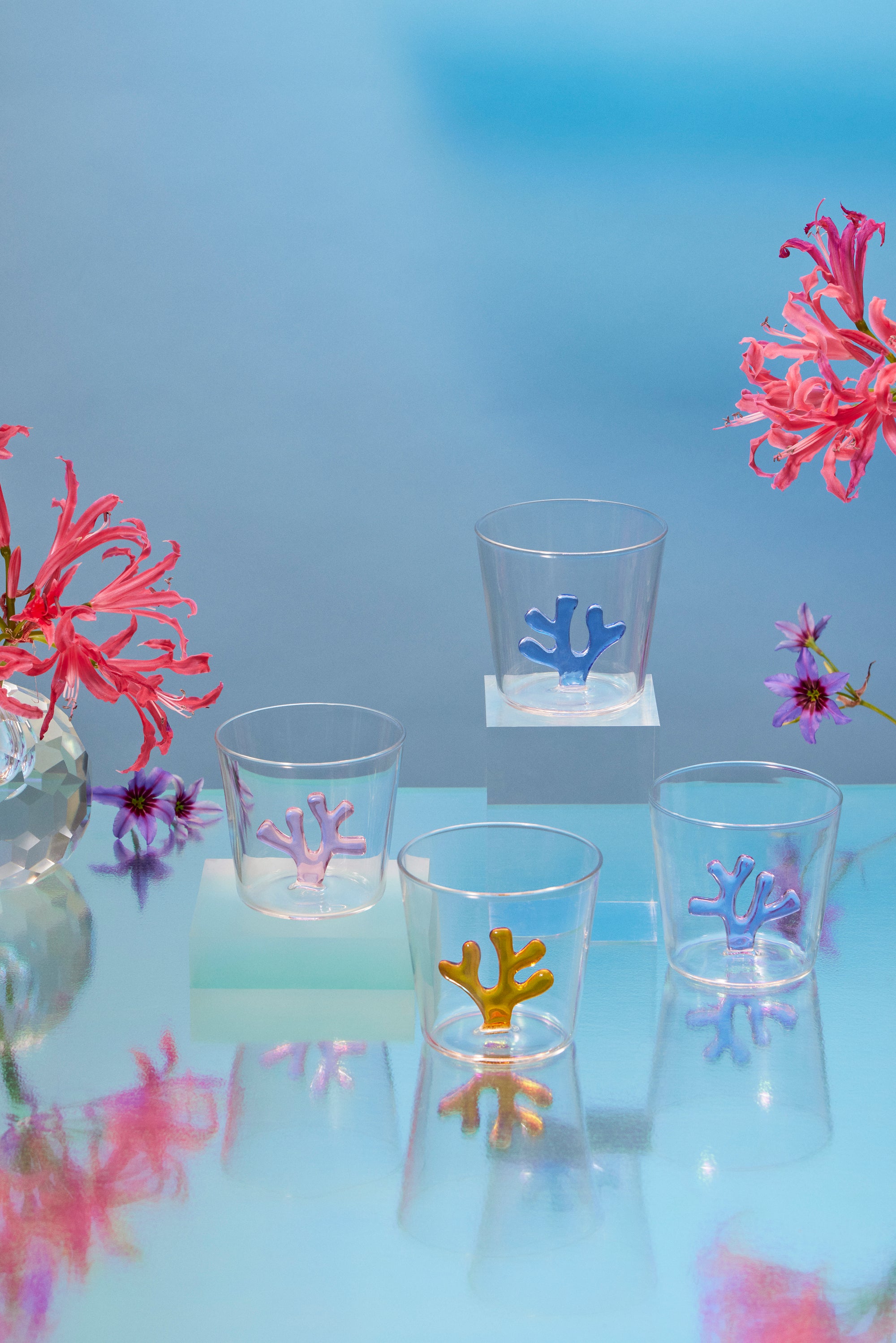 The name Sprezz comes from the Italian idea of "sprezzatura," an effortless elegance. We celebrate this graceful, nonchalant way of life and we believe deeply in art for the everyday.
Our aesthetic has been deeply shaped by our first love, New York City, the meticulousness of Japan, the feeling of Mediterranean sprezzatura, and the warmth and hospitality of India.
With inspiration from Valentino Garavani, Jackie Kennedy, and Gayatri Devi, setting your table with Sprezz will bring whimsical, dreamlike charm to your dinner parties, and extra color to your favorite meals.
Our artist-designed pieces elevate any tablescape. 
Sprezz hand-blown glassware is manufactured using high-quality borosilicate. Our products stand alone as playfully refined basics or can add whimsy to the heirloom porcelain, silverware, and special pieces you have collected over time.
Our colored champagne flutes or stemless wine glasses make the most perfect and thoughtful gifts for yourself or friends.
We hope our products will inspire you to find joy and sprezzatura in everyday.
You deserve modern heirlooms that are built to last. 
Our glassware is lightweight yet durable, and is designed to actually be used every day. We've carefully considered every detail, from high quality, materials such as borosilicate glass in production, down to the sustainable, plastic-free packaging that arrives at your doorstep. 
Infused with a whimsical, dreamlike charm, our products combine non-toxic materials and eco-friendly manufacturing processes with traditional craftsmanship, resulting in glassware that boasts both resilience and enduring appeal.
We know there is no place like home. 
Some of our most cherished memories and meaningful conversations are created around the dining table, which sparked a life-long obsession with creating beautiful environments. Well-designed dinnerware, and elegant tablescapes make these moments extra special, and Sprezz makes it extra easy. 
At Sprezz we believe in building a life well lived, and indulging in daily rituals that create moments of joy.
High-quality tableware. Art for the everyday. 
Sprezz is redefining what it means to gather with friends - or enjoy your own company - at home. We sincerely believe that allowing yourself to indulge in the comfort of your own space may just be the secret to a more fulfilled life. In an ever-changing world, we can always find comfort in sharing a meal with people we love. As you cheers in celebration, we hope our products will inspire you to find joy and sprezzatura around your table each and every day.
Sprezz embraces joy as a manifesto, humor as a must, and light-heartedness as a necessity. This is elevated entertaining.
Liquid error (sections/article-image line 8): invalid url input
Image by: Doan Ly
Published Date: November 9, 2023